MOTI Mega Disposable Review
For my latest vape review I got to test the MOTI Mega Disposable. This latest disposable release from MOTI is one of the first disposable vapes to be designed for DTL (Direct To Lung) type vaping.
There are 2 ways that people vape, DTL or MTL (Mouth To Lung). MTL is the way most people smoke tobacco cigarettes: you inhale smoke into your mouth first then inhale deeper into your lungs. With DTL the vaper inhales deeply right away, so the vaper travels directly into their lungs. This vaping style became popular with the first vape mods. These larger devices allowed for DTL style vaping whereas cig-a-likes and eGo type vapes didn't have that much airflow. In order to produce massive clouds, it is essential to utilize the DTL technique.
Let's dive into the features and performance of the MOTI Mega Disposable Vape.
Moti Mega Disposable Features:
DTL Vaping Style: The first disposable vape with Direct-To-Lung (DTL) style, delivering impressive clouds and intensified flavors.
Extended Vaping Pleasure: 650mAh battery provides 800+ puffs, ensuring longer-lasting enjoyment without frequent recharging.
Modern & Portable: Sleek design with a compact size, ideal for on-the-go vaping.
Captivating Gradient Colors: Stylish gradient options light up your vaping experience.
Deeper Satisfaction: Freebase nicotine formulation for a more satisfying and intense vaping experience.
Discrete DTL Mouthpiece: Comfortable draw designed for Direct-To-Lung style, providing large clouds.
The Moti Mega Disposable vape is the first disposable vape designed for DTL (Direct-to-Lung) vaping. It offers an exceptional vaping experience for cloud enthusiasts, making it stand out from other competitors. With its compact size and impressive performance, the Moti Mega proves that big clouds can come in small packages.
MOTI Mega Disposable Flavors List
Pineapple: The pineapple flavor in this Mega pod is absolutely on point, making it my personal favorite among the collection. Enjoy a great throat hit, a refreshing icy inhale, and a lingering fresh pineapple aftertaste. It's a tropical delight that you won't want to put down.
Strawberry Kiwi: MOTI has truly perfected this flavor! Indulge in the succulent taste of ripe strawberries with a subtle hint of kiwi. It's an easy all-day vape (ADV) that will leave you craving more. This flavor is a definite repurchase for me.
Blueberry: Experience the true essence of blueberries with this delightfully subtle flavor. It captures the authentic taste of real blueberries without overpowering your senses. It's an easy ADV choice, offering just the right amount of flavor to keep you satisfied and wanting more.
Mixed Berries: Indulge in a subtle yet satisfying blend of mixed berries. The flavor strikes a perfect balance, providing ample taste without overwhelming your palate. The slight icy undertone on the inhale adds an extra level of enjoyment, while the smooth berry exhale leaves you craving more.
Grape: Prepare for a spot-on grape flavor that impresses every time. The strength is perfectly balanced, neither too intense nor weak. It ranks among the best grape flavors I've tried, leaving a tantalizing sensation in the mouth that keeps the taste buds intrigued. A true favorite!
Orange Soda: "Who loves orange soda? Kel loves orange soda"… and now I do too! Among all the fizzy flavors I've tried, this one hits the mark perfectly. The orange taste is refreshingly natural, unlike artificial alternatives. The fizzy sensation keeps me coming back for more. It's an absolute winner!
Equipped with a powerful 650mAh battery, this device offers over 800 puffs, ensuring extended periods of satisfying vapor production. Say goodbye to frequent recharging and hello to uninterrupted pleasure.
Beyond its impressive performance, the Moti Mega catches the eye with its modern appearance and portable size. Its sleek design, coupled with gradient colors, adds a touch of elegance and style to your vaping experience. Let the vibrant hues light up your world and bring an extra dose of joy to your day.
The Moti Mega differentiates itself by utilizing a 3% Freebase Nicotine e-juice rather than nicotine salts. This choice offers different absorption of nicotine in to the lungs and brain, providing a deeply satisfying and smooth experience. For cloud chasers in search of a portable disposable vape, the Moti Mega is undeniably the ultimate choice. It combines convenience, power, and an exceptional DTL experience in one compact package. Elevate your vaping journey with Moti Mega and indulge in the pleasure of massive clouds, wherever your adventures take you.
To enhance the DTL style, the Moti Mega features a large mouthpiece. This thoughtful detail ensures a comfortable and seamless draw, perfectly suited for DTL vaping. Immerse yourself in voluminous clouds that can be enjoyed directly into your lungs, delivering an unmatched level of satisfaction.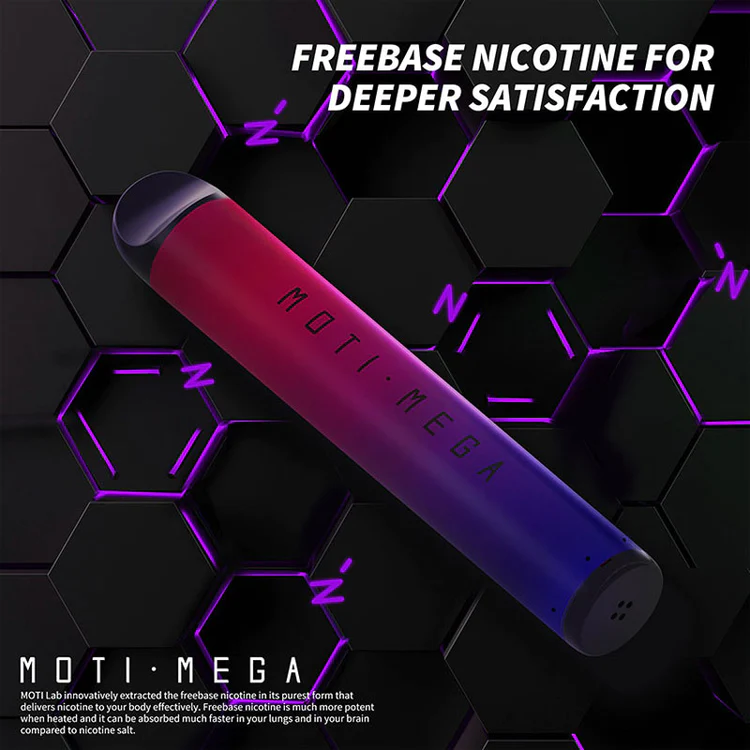 Pros:
DTL Vaping Style: The Moti Mega stands out as the first disposable vape to offer DTL vaping, providing users with impressive cloud production and intensified flavors.
Extended Vaping Pleasure: Equipped with a 650mAh battery, the Moti Mega offers 800+ puffs, ensuring longer-lasting enjoyment without the need for frequent recharging.
Modern & Portable Design: The device boasts a sleek and modern appearance, paired with a compact size, making it perfect for vapers on the go.
Captivating Gradient Colors: The Moti Mega offers gradient color options that not only add visual appeal but also bring a touch of elegance and style to the vaping experience.
Deeper Satisfaction: By utilizing freebase nicotine, the Moti Mega delivers a more satisfying and intense vaping experience, providing smooth and gratifying nicotine delivery.
Discrete DTL Mouthpiece: The Moti Mega features a discrete mouthpiece designed specifically for DTL vaping, ensuring a comfortable draw and enhanced cloud production.
Cons:
Limited Flavors: The review does not provide information about the flavor options available for the Moti Mega. It would be beneficial to have a variety of flavors to cater to different preferences.
In conclusion, the Moti Mega DTL Disposable Pod Kit is a game-changer for cloud enthusiasts seeking portability and performance. Its unique DTL vaping style, longer-lasting capability, portable size, and captivating gradient colors make it a standout choice. With the added benefits of freebase nicotine and a discrete mouthpiece, this device guarantees an elevated vaping experience like no other. Discover the joy of massive clouds on the go with the Moti Mega.